Ishmael In Action
Share Your Story


Arts/Entertainment

Education

Industry/Professions

Media

Online Resources

Past Activities

Spreading the Word

Sustainable Communities

Tribal Businesses

Upcoming Activities

Ishmael Inspires Author's Last-Minute Manuscript Change
Michigan author Linda Lazar Curatolo was finishing up a manuscript for her environmental handbook when she received a phone call from her son, who was living in California. Even though the two were separated by half a continent, they stayed close with long phone conversations in which they shared a love of music, art, the outdoors, social issues and books. Always books. This conversation would be no different.

After Linda went through the usual motherly checklist, she casually asked, "So, have you read any good books lately?" Her son talked about a couple of books and then he recommended that she read one that had been on his mind since finishing it. "There's this one book you'd really like, Mom. It's by an author named Daniel Quinn. . . . Q-U-I-N-N . . . . and the title of it is Ishmael."

His description of the book left Linda feeling curious, but unconvinced. Her son's taste for Philosophy, the Classics and Fantasy didn't always appeal to her own tastes which leaned more toward contemporary dramas with deep character analyses. But he insisted that she trust him and read it.

Within days Linda had picked up a copy, read it and found not only affirmation for her work on behalf of the environment, but a challenge to confront her own presumption of human superiority. "I realized that even though the advice I was giving people on how to change their lifestyle was good, I hadn't gone far enough," said Curatolo. She knew she couldn't rewrite the entire handbook, which was due at her publisher's within days, but it only took a minute or two for her to add a line to her manuscript recommending that people read Ishmael. Linda felt that just one line in her book seemed so insignificant and feeble in contrast with the powerful work of art written by Quinn, but she reminded herself what a chance phone call from her son had done for her. If she could get even a single reader to take her advice about Ishmael, she knew it would mean a great deal to that one person.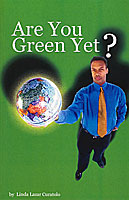 Currently, Oakwood Publishing is marketing Linda's book, Are You Green Yet? to 50,000 junior highs, high schools, university cooperative extension offices, and other service organizations all over the United States. Books can be ordered directly from Oakwood Publishing. Linda Lazar Curatolo can be contacted at curatolo@comcast.net.

Learn more about literature inspired by Ishmael and Daniel Quinn.