Ishmael In Action
Share Your Story


Arts/Entertainment

Education

Industry/Professions

Media

Online Resources

Past Activities

Spreading the Word

Sustainable Communities

Tribal Businesses

Upcoming Activities

Friend and Student of Daniel Quinn Publishes 'Ishmaelian' Essay Collection
Over the years, Jim Tull has published many essays in a variety of places. And now, he has collected and published fourteen of these essays, written over the past fourteen years, into a book entitled Positive Thinking in a Dark Age: Essays on the Global Transition.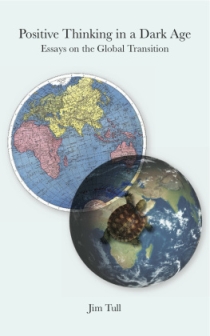 According to Tull, his aim is to draw the attention of social activists away from direct and indirect service interventions and political strategies and toward a 'third way' that rebuilds small-scale communities and promotes cultural transformation. He says that the essays in the book are "a call to shift away from American Dream activism (promoting social justice and environmental sensitivity within the framework of industrial growth and institutional living) to alternative paradigms and structures."

Says Tull:

"Meta-themes of culture, cultural collapse and cultural transformation provide the backdrop for other subthemes in the essays. Seeing and understanding culture as a system that is both powerfully normative yet also highly vulnerable to change opens a door for activists who may otherwise unreflectively adopt organizing goals that are self-defeating. Victories that are shortsighted in this respect simply enable whatever structures predictably generated the targeted symptoms."

He goes on to add:

"Evidence of cultural and systemic unraveling is offered throughout the essays, but emphasis is placed more on guiding and inspiring change."

In the essays, Tull's own journey, as a thinker and activist, is profiled in order to balance prophetic philosophy with the deeply personal. This includes the essayist's dreaming life and trials of romantic love. Tull insists, however, that "there is scarcely a sentence that does not directly serve the mission uniting all 14 essays."

Tull spent his first 20 years after college joining and organizing campaigns that promoted peace and justice. He's a veteran activist and knows the activist world and life. But after reading Ishmael, in 1995, Tull was compelled to rethink and redirect his activist assumptions and energy.

He got to know Daniel Quinn personally through correspondence and then by participating, with five others, in a week-long, pilot seminar in Austin in the summer of 1997, just as My Ishmael was getting final edits, Beyond Civilization was taking shape and the amazing 'The New Renaissance' speech was in final draft. The essays in the new 125-page collection, published in October 2016, were all written since that seminar and integrate Tull's activist drive and sensibility with a distinctly Ishmaelian vision and worldview. He adds the disclaimer that "there is also plenty of content sprinkled though the book that Quinn would not endorse."

The book is available for purchase through jimtull.com.

Tull is a parent of Sofia and Nelson, now in their early 20's as of this writing, and has been teaching Philosophy and Global Studies since 1995 at Providence College, the Community College of Rhode Island and Rhode Island's state prison. All of his college courses address the subject matter of the essays. "My purpose in teaching," he explains, "other than earning a living, is identical to my purpose in writing – to help midwife the 'Great Turning' (Joanna Macy's concept of global transition)."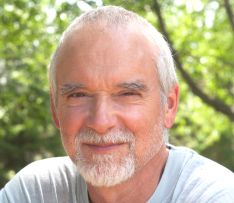 In June of 2015, Tull joined with others to establish a permaculture cooperative in western Rhode Island (visit www.listeningtree.coop). Though his essays are philosophical – because he believes that changed thinking is a necessary and sufficient condition for a changed world – his life has reflected a consistent dedication to living his ideals and trying new ways to create radical change.

Learn more about literature inspired by Ishmael and Daniel Quinn.