Ishmael In Action
Share Your Story


Arts/Entertainment

Education

Industry/Professions

Media

Online Resources

Past Activities

Spreading the Word

Sustainable Communities

Tribal Businesses

Upcoming Activities

Taker Icon Stamped with Barcode Exhorts Bookstore-Goers to "Read Ishmael"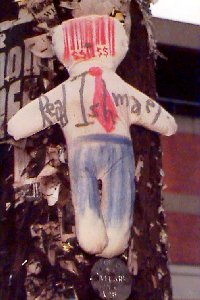 In 1996, Daniel Quinn spoke in Portland, OR during his speaking tour to support The Story of B. In apparent anticipation of his arrival, this icon, which employs barcode imagery, was nailed to a telephone pole outside of 23rd Avenue Books.


Learn more about Ishmael and Quinn-related signs in the community.