Ishmael In Action
Share Your Story


Arts/Entertainment

Education

Industry/Professions

Media

Online Resources

Past Activities

Spreading the Word

Sustainable Communities

Tribal Businesses

Upcoming Activities

Quinn Readers in U.S. and Canada Spread Quinn's Message to Bestselling Author and Filmmaker Michael Moore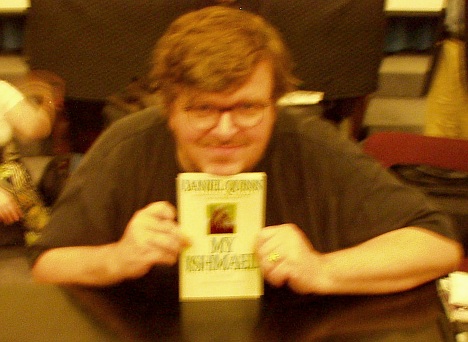 Photo Courtesy of Paul Hoepfner-Homme and Open-Eyes.org



In 1989, a then-unknown Michael Moore burst into the spotlight with his documentary, Roger and Me. The film, made on a shoestring budget, details Moore's exploits as he tries one tactic after another to try to convince General Motors Chairman Roger Smith to come to Flint and face the devastation wrought by the company's massive layoffs. The film gave a view of corporate power in America that was at once humorous and poignant, and took home innumerable awards, as it became the highest grossing nonfiction film of all time.

Moore built on the windfall of Roger and Me, parlaying the success into the emmy-award winning television shows, TV Nation and The Awful Truth, and a bestselling book, Downsize This. His next major film, The Big One, sought to answer the question "Why are companies making record profits, and at the same time laying people off?" It features Moore's encounter with Phil Knight, CEO of Nike, in which he confronts Knight on Nike's use of cheap foreign labor and children in its factories. Feedback from this encounter was instrumental in leading to Nike raising the minimum age for workers in its factories.

In February 2002, Michael Moore's book, Stupid White Men was released. A humorous and insightful diatribe on the current state of the United States, it continues its fourth week as the #1 nonfiction book on the New York Times Bestseller List at the time of this story. It is also a bestseller in several other countries, including Canada and Great Britain. In support of the book, Moore took to the streets to meet, greet and interact with his fans. As he toured the U.S. and Canada, several groups used the opportunity to make Michael aware of Daniel Quinn's work, and present him with copies of Ishmael and My Ishmael.

The Detroit Ishmael Leavers got it started. At Moore's appearance in Ann Arbor, MI, the group presented him with a copy of Ishmael, along with letters from all over the country that were collected urging him to read it and pass it along to those he felt could benefit from its message. Moore accepted the book congenially, relaying how he had been urged to read Ishmael many times before, and asking one of the Detroit members to sign his book for him, even as he signed her copy of Stupid White Men.

A few weeks later, members of the Atlanta Leavers again mentioned Ishmael to Moore at his appearance in their area. Moore again explained how he had been hearing of Ishmael all over, and had been given a copy of it earlier on his tour. Just a week later, Moore was in Toronto, where he was met by Quinn readers Paul Hoepfner-Homme, Jon Pipitone and Evan Munday, all from Oakville, Ontario. The three friends decided to further encourage Moore to read Ishmael, as well as beyond, by presenting him with a copy of My Ishmael. At first, Moore thought it was another copy of Ishmael and was going to return it, but was then made aware that this was a sequel and gladly accepted it and posed for the picture above.

For more information on Michael Moore, visit his website.

Read more about spreading Quinn's ideas to influential people.

Learn more about Ishmael and Quinn-related book distribution efforts.